Forthcoming Events
This section shows Events and News for Ely Art Society. Demonstrations start at 7:30pm and are held at the Methodist Hall, Ely, CB6 1AD. Entry is free for members. Non-members are welcome at a cost of £5.
The 2017 - 2018 Demonstration Programme is now available. To download a pdf copy
please click here
If you would like to see what we have done in the past please
click here
Ref:
Date:
Location:
Photographer:
Ref:
Date:
Location:
Photographer:
13/04/18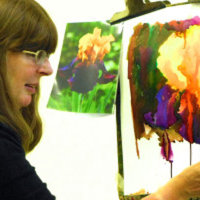 Sue Williams paints primarily in paints using acrylic inks, watercolour, pen and wash and oils. She lives in Norfolk and often works with her partner, John Shave. Together they offer courses covering any subject from pets or boats to the Norfolk Broads.
...more
11/05/18
Mike works in a variety of media, ranging from detailed pencil drawings to oil paintings.
...more
08/06/18
Natasha has exhibited in Australia and the UK. Currently living in Norwich she is a member of the Norwich Lonely Arts Club and Open Studios.
...more
13/07/18
Ernie will be doing a talk/demonstration on the materials and painting techniques of the Old Masters.
Ernie's web site is www.erniebutler.com or for a direct link
please click here
...more
August 2018 - Annual Exhibition
05/08/18
More information will be available soon
14 September 2018 - Demonstration - Linda Series
14/09/18
Linda's web site is http://www.lindaseriesart.com/ or for a direct link
please click here
12 October 2018 - AGM
12/10/18